Agile Leadership For The Age of Digital Disruption
Corporate, CORE IT & Digital T3 Strategic-Operations Program
"Traditional – Transitional – Transformational"
Executive/Manager/Supervisor…CORE IT/Digital Transformation Managers…Digital Technology Technicians
There is nothing that will have a greater positive Impact on your bottom line than Digital Transformation
"Strategic-Challenge-Dynamic-Change-Uncertainty-Growth"…Disruptive digitization and innovation are transforming companies in every industry with a focus on how they interact and market with customers and implement their daily operations.  Companies committing to update their corporate strategies and enterprise CORE IT architectures have the opportunity to deliver goods and services as quickly as today's digital competitors.
"Getting Employees On Board" This strategy update comes with C-Suite/Business Executive's expectations of corporate IT: (1) a major player in growing the business results, (2) improved effectiveness of data/information flow within business processes, (3) enhanced cost efficiency of business processes and (4) providing managers with quality information to support planning and decision making.  Digital/Data analytics drives the corporate strategy ROI.
"Company Growth and Competitive Strategies" in the digital ecosystem requires instant, high-quality decision data.  Implementing these strategies suggests the merging of two internal corporate environments – traditional CORE IT and digital technologies.  Executive Leaders know the company's CORE IT strategies and resources to be integrated and aligned with the digital environment strategies and resources. The decision is driven by digital customer personalized communication opportunities and experiences … forcing companies to be innovatively competitive at hyper-speed.
"Assisting Companies" in developing a company-wide strategic and operational understanding of digital strategies within current business operations is Bottom Line Institute's "Corporate Strategic, CORE IT & Digital T3 Program" with key strategic focus areas:  customers, employees, operations,  IT/ digital infrastructure, innovation and internal/external disruption.
"Digital ROI" metrics are designed specifically to provide assistance to Executive-Management-Operational Managers in implementing the Traditional-Transition-Transformation processes.  Digital ROI m
"The Major Result of BLI's Interactive Sessions" are designed to assist company leadership in assimilating their people into a higher level of value-creation implemented at their own pace.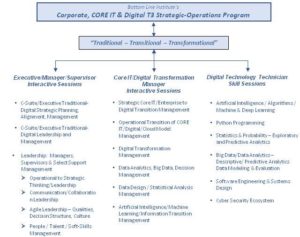 For More Information Call Us At 602-374-3944