Agile Leadership For The Age of Digital Disruption
Digital Transformation Vision, Direction, Strategy, and Cultural Alignment at the  Executive and Operational Management Levels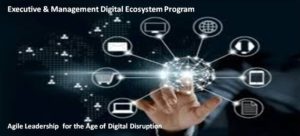 Agile leadership is needed in the Age of Digital Disruption. BLI's Executive & Management Digital Ecosystem program assists organizations in transforming their current leadership and management strategies for today's digital age. This program will lead companies into a higher level of value creation enhancing all areas of the digital ecosystem by reinforcing traditional executive and management skills with the integration of digital transition to transformation leadership skills and building the people and technology foundation to support the Internet of Things digital strategy.
We will provide your organization with a digital transformation roadmap and strategy that brings together leadership, management, marketing and IT to deliver effective digital transformation that creates a true culture of innovation.
PROGRAM CONTENT
EXECUTIVE LEVEL (Senior Executives/Directors)
C-Suite Strategic Corporate Vision
Executive Alignment in Digital Transformation
Executive Strategic Vision Integrating the Digital Transformation Ecosystem
Corporate Strategic Decision Management- Data Analytics & Artificial Intelligence
Corporate Strategic Leadership & People Skills- Traditional & Digital
24 hours of class time.  Sessions meet once a week for 4 hours for 6 weeks.  Can be modified to meet specific corporate needs.
MANAGEMENT, SUPERVISORS & SELECTED SUPPORT STAFF
Digital Transformation Alignment & Leadership
Leadership Collaboration
Operational to Strategic Thinking
Strategic Plan Execution
Business Risk Management in Digital Transformation
Digital Infrastructure Platforms
Digital Transformation
Data Analytics/Big Data
Artificial Intelligence
People in the Digital Age
Data/Information Cyber Security
24 hours of class time.  Sessions meet once a week for 4 hours for 6 weeks.  Can be modified to fit specific corporate needs.

Benefits of Digital Transformation Executive & Management Training
There is nothing that will have a greater positive Impact on your bottom line than Digital Transformation
Executive, Management and Operations become aligned which leads to a more efficient digital transformation- so change occurs faster and results happen sooner.
Total organizational alignment and buy-in to the digital ecosystem leads to a sustained competitive advantage keeping you a step ahead of potential industry and digital disruption
Innovation leads to enhanced customer experiences and value- creating a positive affect on your bottom line
Empowers your people to work better, faster, and smarter- again helping your bottom line
For More Information Call Us At 602-374-3944